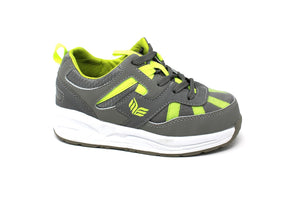 Mt. Emey MTW16 Green - Children Straight Last Athletic Shoes with Laces
Item Number: MTW16Â Green

Shoe Sizes:Â 

T4 - T13, Y1 - Y6 (T: toddlers, Y: youth)

Shoe Widths:Â W

Straight last.
Extra-depth with 4mm.
Removable inserts.
Elongated counter support.
Wide opening for easy entry.
Solid high density EVA midsole.
Non-marking soft rubber outsole.